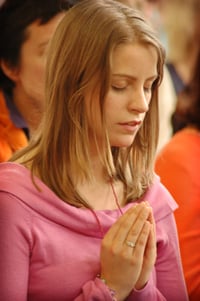 Chanted prayers (pujas)
These are beautiful chanted prayers sung in English which help us to receive inspiration and increase peace throughout the world. By drawing close to the enlightened beings we develop a calm, balanced mind and awaken our own potential for enlightenment.
There is no cost to attend our chanted meditations. No need to book, just drop in. Beginners are welcome. Please arrive on time.
Regular Pujas
Wishfulfilling Jewel with Tsog
Sunday
5:00pm-6:15pm
2 Stokes Rd, Mt Eden, Auckland, 1024
Prayers for wisdom, compassion and spiritual protection. This is a weekly puja at Kadampa Centres worldwide. Everyone is welcome to...
Read more
Heart Jewel Prayers.
Monday
5:00pm-6:00pm
2 Stokes Rd, Mt Eden, Auckland, 1024
The daily puja at Kadampa Buddhist Centers is Heart Jewel, which is a Guru yoga of Je Tsongkhapa combined with...
Read more